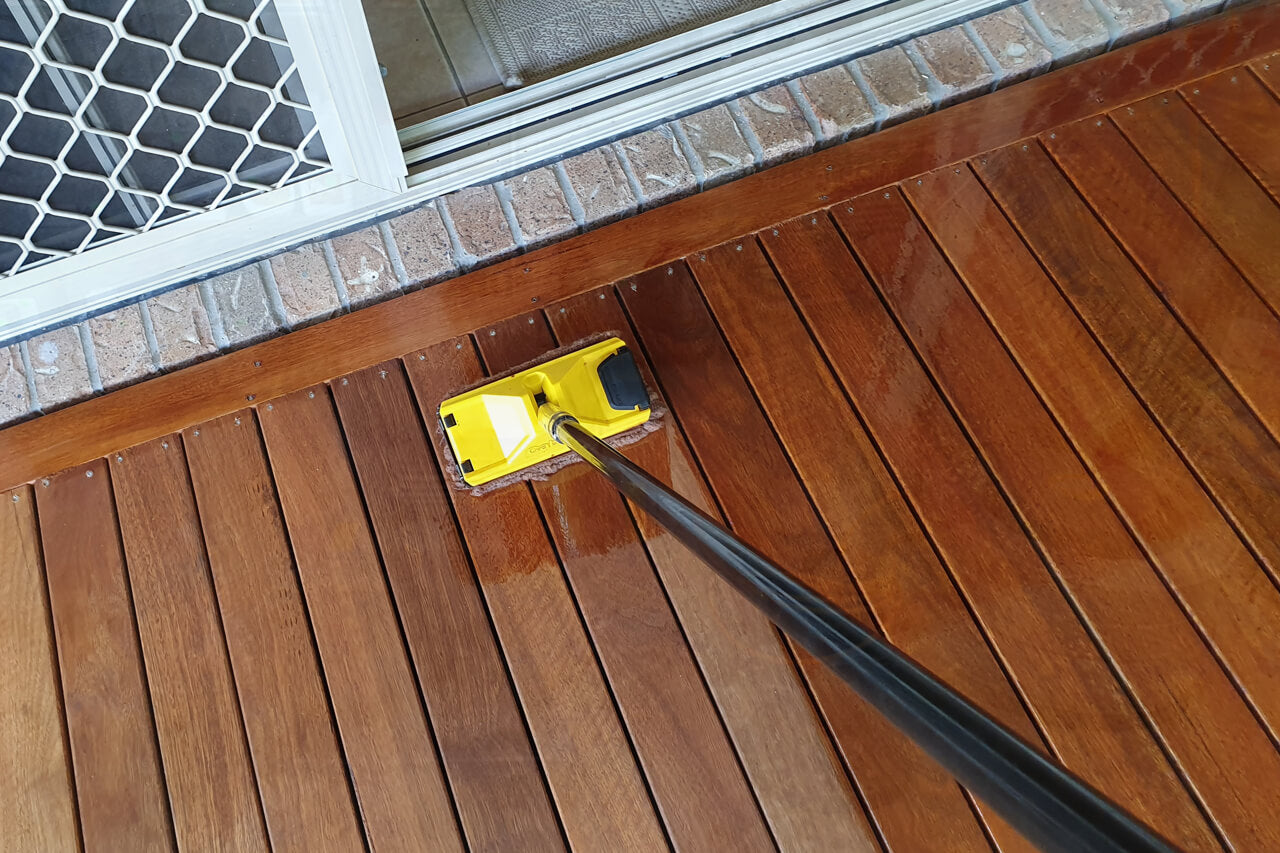 Timber Decking Maintenance
Letting your deck naturally weather before coating:
Most of the Finishing company's recommend letting the deck stay exposed to the weather for 6-12 weeks to let the tannins come out of the timber and the pores of the timber to open up which allows the first coat to penetrate further into the timber. Hardwoods have natural oil in them used for protection and when you apply a un-natural oil to them to soon the natural oils react and try to push your decking oil back out of the timber. This is important with the hard/dense hardwoods like Ironbark, Spotted Gum, and Northern Box.   My saying is for the deck to look good it needs to look bad first. Softer timbers like   Cypress/ Western Red Cedar/Treated Pine can be sealed straight away.
When the timber is ready to be sealed we recommend cleaning it with 'Oxalic Acid" which we sell in a 500g tub, called Rust and Stain Remover. It removes the Tannins, Dirt, and Grease from external surfaces and will help open the pores of the timber allowing the first coat of oil to penetrate further into the timber. It will also help bring the colour in older decks back to life.
The ultimate deck preparation:
If you would like to oil your deck straight away and are prepared to put a little more elbow grease into it we strongly recommend this method.
Step 1; is not critical but will help get a longer life out of your coating.  You need to open that grain up so the best way of doing this is to sand the deck with a coarse grit belt like 60-80grit using a belt sander. You need to roughen the surface a little to allow the coatings to penetrate into the grain. DO NOT use a fine belt as it will close the grain up and block out the oil penetration.
Step 2; Sikkens Cetol BL Tannin & Oil Remover is specially formulated to prepare new exterior hardwood / decking prior to treatment. This revolutionary formula eliminates the need to wait months for new hardwood to weather, by encouraging oils and tannins to be drawn to the timber surface in 15-20 minutes. It's simple to apply.
Step 3;  Apply Sikkens Cetol BL Deck & Wood Cleaner is a fast acting gel that takes just 15 minutes to revitalize and brighten grey and weathered timber.
Step 4; Abbey Timber has been selling and recommending Sikkens products for over 40 years and it's hard to introduce any other brand to our range with the amount of positive feedback we get from our customers who have used it. So you have a choice of an Oil Based product like their HLSe or the latest product of theirs to hit the Market Sikkens BLX-Pro water base.
What to apply to your deck?
Abbey Timber will make it easy for you with just 2 choices to make to get the best finish with the least amount of maintenance. We believe in a film build up coating where the 1st coat will penetrate the wood the final 2 coats form a film build up to seal and protect your timber from the hash Australian weather and other elements like Bird dropping, Tannin stains from leaves and branched and of course the dirt and mud that is walked over the deck daily. Other products on the market are called penetrating oils and our belief from experience, feedback and our own testing is that if the wood has a penetrating coating on it with no film build up how well can it protect the wood from all the elements of weather and other objects from penetrating into your beautiful deck also? One very important fact when using Film build up products is that you must maintain your deck so when you notice the timber fading a little or when you pour water on the timber and it no longer beads itself on top then it's time to give the deck a quick clean and apply one more coat. Non film build up products on the market will handle poor maintenance better but to have them look good you will be applying a coat on average every 6-12 months were from our experience the Sikkens products could last as long as 12-24 months. Now every deck is different and factors like the direction the deck faces as to how much sun it gets and the amount of traffic your deck receives right down to how well you prepared the timber before coating it all determine the length of time between coats. A good habit is to re coat before summer each year.
Sikkens Cetol BLX-Pro is a quick drying water based exterior timber finish that is ideal for decks and outdoor furniture providing good durability and flexibility. Its highly transparent finish accentuates the natural characteristics and colour of the wood. Must be applied with a Sikkens Ezee Deck brush or standard soft bristles paint brush ( nota lamb's wool applicator or roller) Available in 5 colours, refer to the technical data sheets on our website under Sikkens professional coating page or call our expert sales staff for advice.
Microporous allowing the timber to breathe while repelling unwanted moisture
Wood grain remains visible after application of timber stain
Environmentally friendly and non-toxic
Fast drying
Good adhesion on bare wood
Long lasting UV and weather resistant
Easy to apply and clean
Water based
Low satin finish
Sikkens Cetol HLSe is a film build up Oil Based product designed as a standalone 3 coat system for the decoration and protection of timber decking, outdoor furniture and roof shingles. It can also be used as a base coat for Sikkens Cetol Deck Slip Resistant. Must be applied with a Sikkens Ezee Deck brush or standard soft bristles paint brush (not a lamb's wool applicator or roller) Available in 9 colours Refer to the technical data sheets on our website under Sikkens professional coating page or call our expert sales staff for advice.
Microporous allowing the timber to breathe while repelling unwanted moisture
Wood grain remains visible after application
Long lasting UV and weather resistant
Resists blistering, peeling and mould
Can also be used as an interior timber coating*
Simple maintenance
Satin finish